This is the question from which Duck fans should rightfully be…ducking.
Let me explain.
Microsoft Excel allows a user to right click and find out both the author of a document and when it was created. Both Excel spreadsheets provided to the Oregonian this morning were created by Michelle Csatari on February 18th, 2011. See screen capped image: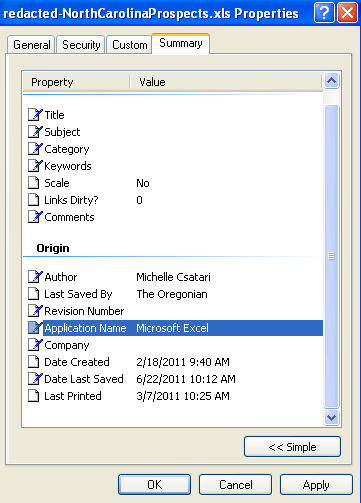 This begs the questions: who is Michelle Csatari, and why was she creating (laborious) spreadsheets for Oregon's compliance department?
Well, first off, according to her linkedin profile, Csatari worked for Willie Lyle's MLSsports from 2008-2009. Her job description reads:
Director of Scouting

MSL Sports

Marketing and Advertising industry

2008 – 2009 (1 year)

Communicated with coaches and players from across the country. Responsible for strategic placement and supervision of regional scouts nationally. Created and managed accounts, databases, invoices, contracts, payments, and product distribution for College Football Programs. Promoted and marketed scouting packages to new clients
So, what do we know? We know she knew Willie Lyles in 2008. We also know that she placed scouts and received payments for product distribution. Hm.
In 2010 she goes on to work as a disability claims examiner in New Jersey, before resurfacing in the football world as a recruiting coordinator for Dartmouth University in New Hampshire.
What do we know? Nothing too damning here, but it definitely raises questions. Why does Csatari leave for New Hampshire right around the time Lyles and Kelly are accused of exchanging money for players? Chip Kelly is from New Hampshire. Sure, this could be a coincidence. Or, placing Csatari could be a be part of the deal. After all, Csatari currently lists Lyles as a friend on her Facebook profile (alternate screen cap here). Isn't this what friends do? And we know Lyles thinks so highly of her that he asked her to create the two Excel documents found in the Oregonian this morning.
What's most vexing about the Excel documents is that Csatari was the recruiting coordinator at Dartmouth at the time they were created. You would think that being a full-time recruiting coordinator, one wouldn't have time to draft large, laborious Excel spreadsheets for former employers or other universities. Is Csatari just a very nice person? And why weren't these documents already created, since they were supposedly part of Lyle's 2011 "National Package"?
The final, and perhaps most fascinating, part of this puzzle is that Csatari is either fired or leaves her job at Dartmouth only a month after creating the Excel spreadsheet for Lyles. According to her Linkedin profile, she becomes the Director of Sales at CML in Boston. This occurs in April, 2011. So, between creating the documents on February 18th, 2011 and April, 2011…something happens, and she changes jobs.
If I am with the NCAA, I question Michelle Csatari. This may be a classical prisoner's dilemma, and she'd be liable to blink before Willie.