Can be summed in two words: jealousy and misinformed.
You might wonder why I'm discussing Jeff Teford on a day when the Men's Basketball team hopes to continue their impressive romp through the Pac-10 schedule. Well, tonight the Beavers play Cal, so there's that connection, but moreover because every recruiting cycle I hear the same talk about how Tedford can't translate his highly recruited talent into wins.
I'd always roll my eyes when reading such comments, but I finally decided to put in some work to see if they're founded in fact. They aren't. Below is a summary of both coaches' resumes: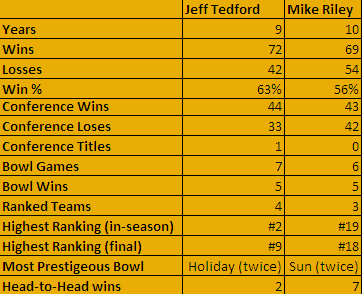 So, there you have it. Do I even need to expound?
Beaver fans making fun of Tedford are like the homeless scoffing at snickering passersby. "Angry, Riley is 7-2 versus Tedford!" So what? Do you base your program's success on head-to-head record versus Cal, or the body of work and final standings? To talk about head-to-head battles or the number of players drafted into the NFL would be to bring into play a logical fallacy known as an "irreverent conclusion." Do not turn down that dead end road.
In short, Beaver fans, in their jealous rage–which always seems high during the recruiting season–once again prove that envy and uncontrollable emotion rules the day. Here is some advice for delusional Beaver fan: instead of displacing blame for your team's mediocrity onto Jeff Tedford, look in the mirror and place blame where it is due.