I'll say it: I'm tired of our lack of identity. By definition a lack of identity is tantamount to an identity crisis. A crisis is defined as, "a stage in a sequence of events at which the trend of all future events, esp. for better or for worse, is determined; turning point."
The Beavers have gone through 3 different uniforms in the past 4 years. That, my friends, qualifies as an identity crisis.
We can all agree that the Beaver uniforms are a work in progress. The orange top variant is pretty slick. They looked like a real football program versus USC last year rather than some gimmicky directional school from the Sun Belt.  Of course, in typical Beaver fashion, they donned that uniform once (USC) and dropped it. I guess, like lace panties, that uniform is for "special occasions"…?  Meanwhile, we continue to look like either death metal goths (black uniforms) or Jerry Seinfeld dorks (white uniforms) on a weekly basis. Can we please wear the orange uniforms? We have "Orange outs", "Bleed orange", wear "orange-colored glasses", and the slogan on the official site is, "I am Orange", yet we continue to wear putrid uniforms that are either 90% black or white. Identity crisis.
On this same note, our logo, or at least the font, changed to this: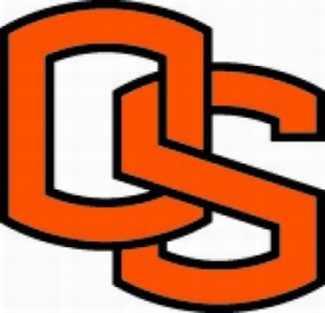 Repeat with me: identity crisis. What does this font say about the school? We're "modern and blocky and ugly"? Great. Can't we do something simple, elegant, powerful? Further, is this new design our University logo or just our sports teams? I'm not sure, because both the baseball and basketball teams wear it, yet the football team still sports a cartoonish Beaver on their helmets.
To the casual fan, who are the Beavers? What is Oregon State University? I have no idea how to answer that. Objectively speaking, it seems to be a mismatch, a potpourri, a hodgepodge, a little this and that, a little that and this, mixed with a little "what the fuck?" for good measure.
If you argue with me and say, "I just root for the uniform, only Ducks care what they look like!" then you're an idiot and the reason why we're a national unknown and the reason why it's always Halloween in Corvallis.